"Yesterday, to update my iPhone, I connected it to my computer and iTunes and started the process for restoring it. However, after a few minutes, I received a notification which displayed the error message that 'This iPhone could not be restored.' What can I do? How can I fix my iPhone?"
Are you facing a similar issue? Are you unable to restore your iPhone?
It is common to experience this error while restoring your iPhone from iTunes, taking a backup, or during an iOS update. Your iPhone may display error 21, which means that iTunes is being blocked from downloading restore files or it may be trapped in recovery mode, which can occur due to hardware issues or software corruption.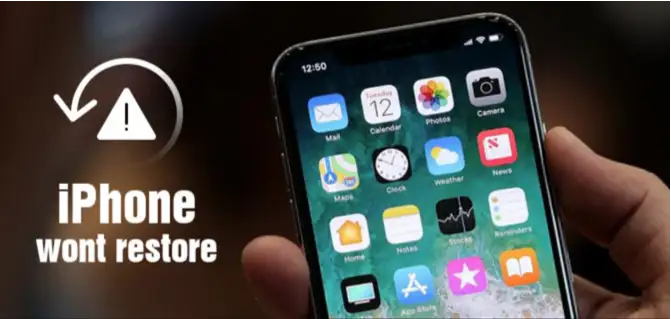 Let's explore the reasons behind the iPhone restore error and the different ways to fix them.
Common Reasons behind 'iPhone could Not Be Restored' Error
The iPhone restore problem may occur after you have tried the iOS update or an iTunes update.
During the restore function, an unknown iTunes error interrupted the completion.
While restoring from iCloud or iTunes, the restore process was interrupted.
Sometimes, after the jailbreak process, iPhone won't restore error may arise.
Your iTunes is unable to download backup files.
How to Fix 'iPhone won't Restore' Problem?
1. Ensure Wi-Fi Connection
The iPhone could not be restored issue can arise due to a weak Wi-Fi connection. Check your Wi-Fi connection and make sure that it is working.
Tip: Sometimes you can restore your iPhone just by restarting it or restarting your iTunes application.
2. Check USB Cable for Damage
Other than Wi-Fi, the USB cable through which you connect your iPhone to the computer or laptop might be broken. If so, then, try changing the USB cable.
Note: There is a possibility that the USB connector of your laptop or computer is defective or not working. Try connecting it to a different USB port or on a different computer.
3. Download and Install the Latest iTunes Version
The iPhone won't restore problem can also arise if your iTunes version is not compatible with your iPhone. Usually, iTunes notifies you about available updates as soon as you open the application on your computer. However, if you have missed it, then, open the iTunes app and from the menu that appears, click on Help. In this drop-down, you'll find Check for Updates. If there are any updates available, you'll receive a notification saying so.
4. Restore your iPhone in DFU Mode
Connect your iPhone to your computer and launch the iTunes app.
Now, for iPhone 6s/6 and below, hold Wake/Sleep Button and Home Button for 8 seconds. After 8 seconds, release Wake/Sleep Button but don't release Home Button until iTunes give you an option to recover your iPhone.
For iPhone 7, press Wake/Sleep Button and Volume down Button for 8 seconds. After 8 seconds, release Wake/Sleep Button while still holding Volume down Button until iTunes gives you an option to recover your iPhone.
For iPhone 8 or X, press Volume up Button, then, release and press Volume down Button. After this, press Wake/Sleep Button till the screen turns black and as soon as that happens, hold Volume down Button. After 5 seconds, release Wake/Sleep Button and keep pressing Volume down Button till iTunes give you an option to recover your iPhone.
Tip: You can also try hard resetting your iPhone by pressing and holding Volume down Button and Power Button together until you see the Apple logo.
5. If Nothing Works, use stellar iPhone Recovery Software
If nothing works and your iPhone won't restore, try stellar iPhone Recovery Software for the safe recovery of your data.
Download stellar iPhone Recovery Software and install it on your computer.
After launching the software, you'll receive options to Recover from iPhone, Recover from iTunes Backup, Recover from iCloud Backup, and Import file to iPhone.
Choose the relevant option and safely recover your iPhone data.
Stellar iPhone Recovery can enable you recover lost photos, videos, messages, and contacts from iPhone X, 8, 8 Plus, 7, 7 Plus, 6, 6 Plus, and older models.
The software is available in 3 versions Standard, Standard Plus and Technician.
Don't worry if you have accidentally deleted your data or if you are experiencing an iPhone won't restore issue; stellar iPhone Recovery is an easy-to-use software that will retrieve your data. It additionally provides advanced support for iTunes 12.7.x and iOS 11.3.0 and allows multiple connections and data recoveries.
iPhone Could Not Be Restored: Prevent the Issue
You can prevent the iPhone won't restore issue by checking your USB cable beforehand, ensuring a secure Wi-Fi connection, and installing the latest iTunes version. Further, it is suggested to avoid interrupting the restore, update, or backup process of your iPhone as this may even lead to permanent data loss. Hence, take necessary precautions before starting the iOS update or any backup process on your iPhone.
This software by Stellar data recovery is a must have tool you can have it on hand for the worst case scenario.