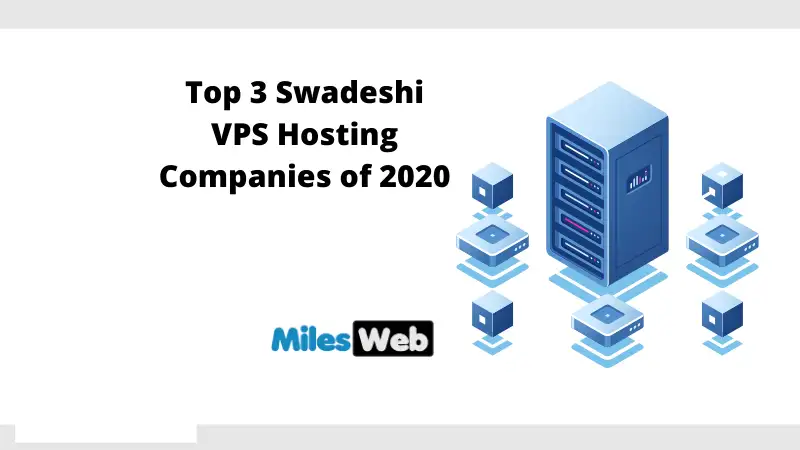 You might have heard about VPNs or Virtual Private Networks. Do you know what they are? Basically, VPNs are software that unblock blocked websites at work. Although this is true, it is only the tip of the iceberg. Amateurs don't have even the basic knowledge of a Virtual Private Server. VPNs and VPSs are many times thought to be similar but are two very different things. VPN is a network while VPS is part of a physical machine.
A connection of one or more computers over the internet that keeps the information safe from those that aren't a part of the network is called as a Virtual Private Network (VPN). Due to this, it has become popular for businesses as they get privacy for the critical information. A physical part of a bigger server that is configured such that it doesn't interact with any other data on the machine is called as a Virtual Private Server (VPS). It means that it has its own resources allocated along with the software and more. Basically, it is a server within a server.
May you consider buying anything online or offline, it is important to be careful and so here's detailed information about the 3 best Swadeshi VPS hosting companies of 2020.
MilesWeb – Popular for Support and Services (Headquartered in India)
MilesWeb is one of the Swadeshi hosting companies, which means it is headquartered in Nasik, Maharashtra, India. It is an independent hosting company and not a part of any organization. Started in 2012, they offer array of web hosting services such as shared, dedicated, managed VPS, unmanaged VPS, reseller, cloud and WordPress hosting.
You can find their customer support team always available to resolve your queries and you can contact them via email and live chat. You get the best uptime with their Tier-3 and Tier-4 datacenters. Migration is no more a headache as they migrate your website to their servers at your convenient timing.
They offer both managed and unmanaged VPS hosting plans. They take the complete responsibility of your server management with their managed VPS hosting.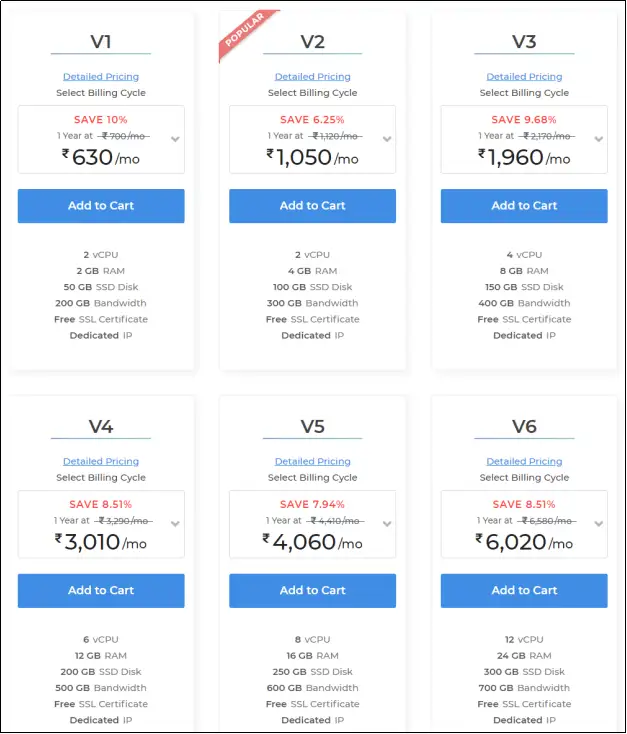 Features of Managed VPS Hosting
Cloud Powered VPS
Select Your OS
Select Your Control Panel
SSDs
Free VPS Management
SSH & Root Access
Resource Monitoring Dashboard
Host Unlimited Websites
Free VPS Migration
Instant Provisioning
No Setup Fee
Robust Infrastructure
Enterprise-Grade Hardware
24/7/365 Support
HostGator – Popular for Reliability (Headquartered in USA)
Started in 2003, HostGator has always been the top competitor in the web hosting world. Though being an Indian web hosting company, they are headquartered in USA. Apart from their low-cost shared hosting plans, they are popular for their VPS hosting. They also offer all types of web hosting services to cater all types of businesses. The only point where they lack is the pricing as their prices are a bit higher as compared to MilesWeb. Their VPS hosting starts at Rs.699/mo.
They offer 24/7 customer support and 45 day money back with their VPS hosting plans.
VPS Hosting Plans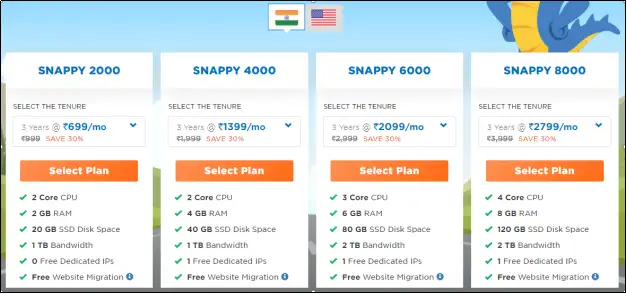 Features of VPS Hosting
Full root access to user
Integrated cPanel for VPS Server
Near-instant Provisioning
Guaranteed Resources in VPS Server
Secure Environment
Cutting Edge Server Hardware
Top of the line network
A2 Hosting – Popular for Speed (Headquartered in USA)
Started in 2001, A2 Hosting also has its headquarters based in USA and offers services in India too. In case, you aren't confident about selecting VPS hosting, A2 Hosting's team can help you. Their team is friendly and customer-centric, and offers 24/7 support to its clients.
In case you aren't happy with their service you can at anytime ask for the refund. Moreover, they offer an uptime of 99.9%.
Managed VPS Hosting Plans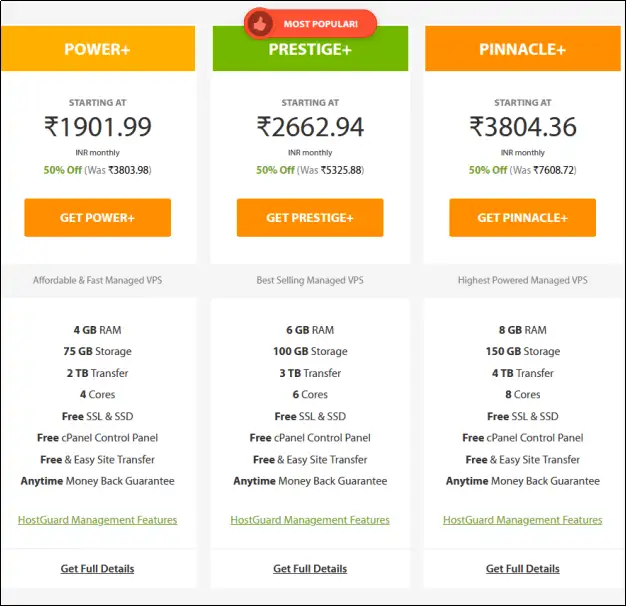 VPS Hosting Features
Free SSL & SSD
Free cPanel Control Panel
Free & Easy Site Transfer
Anytime Money Back Guarantee
Dedicated IPs
Datacenter Choice
Root Access
The Verdict
When looking for a VPS hosting provider, you need to consider different factors. It depends on the needs of both you as well as your website.
Below are some standard factors that you should check when choosing a hosting provider. These are:
Uptime – This is one of the significant aspects for any site. Of course no web host can guarantee 100% uptime, but the closer the uptime to this value, the more are the chances of your site always staying up.
Root Access – If you have the technical knowledge, getting greater flexibility and customization over your server is just a cherry on the cake. This allows you to install additional software that help to meet your site's needs, and improve its security.
Bandwidth – Apart from uptime, bandwidth is the next critical factor that sites rely on. Almost half of internet users expect a web page to load within seconds, so it's essential that your site has ample bandwidth.
So, remember to check these features in web hosting provider you select and yes always select swadeshi VPS hosting provider such as MilesWeb that has its roots in India.