Do you want to list all of your services and let people select the services they need from you? Usually many blogs provide blog related services such as WordPress installation, blog consultancy and search engine optimization, if you are one of them and want to receive orders for the services you offer then Google Forms is the best solution.
With Google Forms you can easily create surveys, feedback form, order forms to receive orders for the services you provide and you can also make a team roster. Google Forms stores the accepted results in a spreadsheet. It is absolutely free.
Here is how our order form looks once completed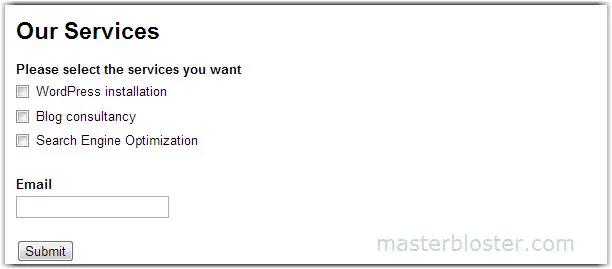 Creating Order Form for your Services with Google Forms
Assuming you are providing WordPress installation, blog consultancy and SEO services and want to create an order form to receive the orders from your customers. Once created the order form you can embed it in your blog. So let's get started-
Navigate your browser to Google Drive Apps
Scroll down to "Forms" and click on "Create" button

Enter the title for your form as "Our Services" and choose the theme for your form
Now you are ready to add your services, enter "Please select the services you want" in question title text box and choose "Checkboxes" for question type.
It's time to add the services you offer, enter "WordPress installation" in option 1, click on second option and specify "Blog consultancy", click on the third option and add "search engine optimization".
We also need customer's email ID to contact them back right? So click on "Add item" button and enter "Email" in question title and choose "Text" for question type. Put a right mark in "Require question" check box to make Email mandatory.
Click on "Done" button.
You are done with the form part, now you have to setup the spreadsheet to receive orders (results). All the queries sent by this forms are stored in this spreadsheet.
Click on "Choose response destination", point to "New spreadsheet" and click on "Create" button. That's it; now click on "view live form" to see the preview of your form.

How to Embed Google Form in Your Website?
Now we have created the order form with Google Forms, now let's embed the completed Google form in your website or blog. It's very simple, after you are done with the steps above, click on "Embed" under "File" menu, set the height and width of your choice, copy the HTML code and paste where you wish to embed the created Google Form by choosing text mode in your blog.
Conclusion
You have created the order form with Google Forms without writing a single line of code and without spending a dime.