Do you dream of distributing your home-made hot sauce nationwide — or are you just looking to grow your income with a creative side-hustle? Either way, promoting your small business on Instagram with its enormous, active user-base just might be the answer you're looking for.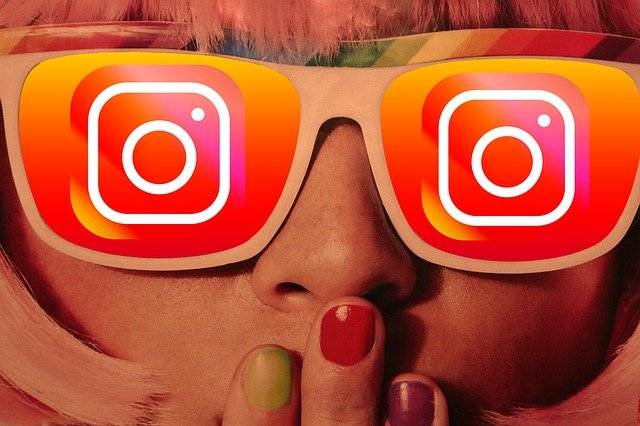 Just how big is Instagram's user base, you ask?
It's so big that the number of active users exceeds the entire population of the United States, Brazil, and Japan – combined.
So, with its whopping one billion active users, Instagram is the place to engage customers regardless of whether you're a small business owner with a couple of hundred followers or are just getting started. Factor in Instagram's enormous user base, ultra-high user engagement, and simple visual format, it's the ideal platform for small businesses looking to engage potential customers.
Some people call Instagram "the place where business dreams come true." Our five tips will show you exactly how to make it happen.
Getting Started
Before you start snapping away and staging beautiful photos for the 'gram, stop and consider who you're trying to reach, what you're hoping to achieve, and how you're able to deliver value to your customers.
Who
Before choosing what specific kind of content to put on your Instagram, you'll first need to decide on your target audience. Knowing who you're speaking to, whether it's a busy mom who loves gardening or an ambitious young professional who loves handmade goods lets you create posts that speak directly to that exact persona. Unsure who you're trying to reach? Check out this great guide on identifying your audience by Hootsuite.
What
Next, you'll want to consider what success looks like for you. While everyone would love to get more likes and followers, this kind of engagement doesn't necessarily lead to sales.
So be sure to think about what success means for your business and consider how you can measure this, whether it's gaining more new customers, increasing sales of your most expensive products, or something else entirely. Once you know this, you can plan your IG strategy accordingly.
Why
After thinking about WHO your audience is and WHAT you want to accomplish, you'll want to share your brand's 'why' in your Instagram bio. The bio is not only a place where you can put a clickable link back to your business, it's also where you can explain why your small business does what it does. With only 150 characters in your entire bio, your 'why' needs be short and sweet. For instance: "creating one-of-kind beaded jewelry" or "home-made hot-sauce to spice up your party."
Step 1: Define Your Visual Identity
Now that you have a clear business goal, know exactly who you're trying to reach, and wrote a killer bio, it's time for the real work to begin. As a photo and video sharing app, Instagram is a hyper-visual medium. This means that your images, aesthetic, and design matter much more on Instagram than on other social networks — and make all the difference in your IG success.
One small business doing an amazing job of curating a clear brand aesthetic is French clay-jewelry designer Claire of Instagram's Clairecreashop. Claire uses fresh and colorful images featuring her image, her
polymer clay earring designs, and the fun lifestyle that her designs evoke — all while including post and bio links that send fans to her Etsy store.
While coming up with a visual identity can feel intimidating, online Instagram templates can be a great starting point to get inspired, stay on theme, and keep your visual content looking polished and professional.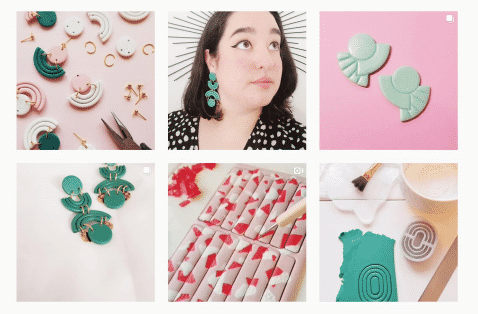 Step 2: Be #Discoverable
Unsure why #hashtags are all the rage? Because even if your business is small, like Singapore's Kult Bespoke leather goods, using keywords with a hashtag lets every person inside the city-state of Singapore searching for words like "handmade gifts" or "gifts for him" quickly find these one-of-a-kind crafts right in their own backyard.
Lawrence Ku, founder of Kult Bespoke, uses correct and localized hashtags like "Singapore" and "madeinSG" on Instagram and also consistently tags his location to be easily discoverable. This lets him form strong local connections and share his passion for craftsmanship and beautiful leather goods while reaching new audiences across Singapore.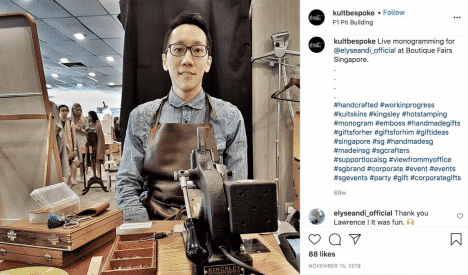 Step 3: Give Back to the Community
Who doesn't love a compliment? Whether in daily life or on Instagram, sharing kindness goes a long way to building an authentic connection and creating community. Another way to consistently post content without selling too directly is through building and supporting your community.
Community can mean different things for different small businesses. For florist and dahlia farmer Kristine Albrecht of SantaCruzDahlias, finding her 'community' meant connecting with florists, wedding planners, and other dahlia growing enthusiasts not only in Santa Cruz, California but also around the world.
Through her stunning shots of blooming dahlias, helpful growing tutorials, active tagging of friends, quick message response times, and frequent follower engagement, Kristine's Instagram techniques are truly best-in-show for growing small businesses.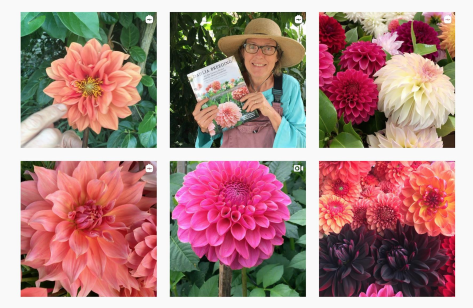 Step 4: Tell your Story with Video
It's time to tell your story- your Instagram Story, that is! If you thought Instagram was just pictures, then think again! Savvy small businesses are also using Instagram stories to share exciting videos and give frequent updates to their followers.
Estephania of Gilroy, California's HomemadeSalsaBye does an excellent job of using Instagram Story to post a new, exciting video every month of her delicious homemade salsas. They use the story feature not only to share updates, but also to tap into current conversations by replying to comments and reposting their fan's rave reviews. Estephania's videos are animated and engaging, using video tricks with the help of premade video templates.
---
Step 5: Measure your Progress
Once your Instagram is up and running, you'll want to know whether you're growing your brand and making progress toward your business goal, or if your efforts have yet to take off. Steadily increasing follower count, likes, and comments, are all great starting points but growing an Instagram brand and seeing results requires time and scheduling posts consistently.
One of the best ways to measure success beyond followers and likes is with an Instagram business profile, which can help you see metrics like most engaged hashtags or reach ( i.e. how many people are seeing your content). An Instagram business profile is free to set up. Or, if you already have an established personal Instagram account, you can simply convert it from a personal to a business account.
Switching over to a business account allows you to use all of the messaging and advanced measurement features of a business account, while also ensuring you don't lose followers or need to rebuild your Instagram brand from scratch.
Post your Way to Success
There's no denying that Instagram is a powerful force for reaching new customers and building stronger relationships with existing ones.
By following these tips, anyone can grow an audience and build engagement on Instagram. Simply create a clear business goal, develop a visual identity, use hashtags and keywords to be #discoverable, increase engagement with Instagram Video, and check the metrics to make sure your goals are on track.
You don't have to be a marketer to create fun, engaging Instagram content — by simply trying and perfecting these five simple tips, your small business is sure to find viral success!