Nowadays, the internet is filled with websites. There are thousands that are launched every single day. Businesses have to use mobile web design since there is an increase in usage of mobile devices. Because of the fact that mobile website design is different than regular design, it is important to know more about the process. You cannot simply launch a new site that features mobile website design and expect to gain the attention of your visitors.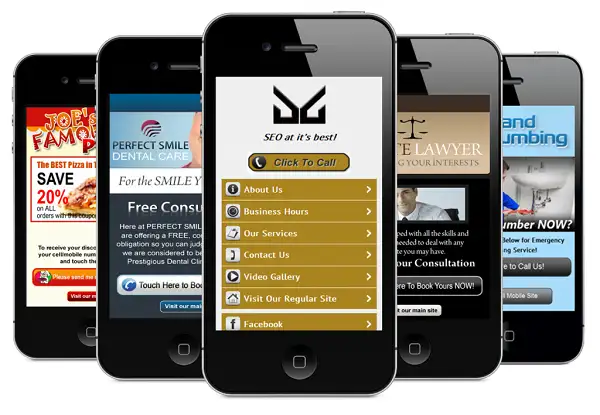 Remember that website design has to consider an interface that is suitable for all possible screen sizes. All the content needs to load fast and the minimum resolution that is normally considered is 320 X 480 px. Getting more visitors is always easier when you think about the following tips.
Keep Everything Simple And Concise
The smartphone users will rarely have the interest or the patience to look at content that is extraneous. You need to revise the mobile website and eliminate all the taps or swipes that are not essential at an absolute level.
The mobile website needs to only offer exactly what users are looking for. This almost always includes maps, contact details and online bookings, among others. Visitors can be redirected to main sites in order to get more information. People will use mobile phones in a different way than personal computers.
Reduce Form Numbers
It is really important that you reduce how many forms need to be filled as the mobile user accesses a site. Basically all forms have to be as limited as possible, allowing only the addition of key information on the smaller screen. That is highly important for mobile use.
Similar Look
Nowadays, the norm is using responsive website design. This is something that is really important. You have to be sure that the mobile website design looks as similar as possible to the desktop version. Logos have to be included and branding should be done as refined as possible.
Button Space
It is vital that you always keep enough space available between the mobile website buttons. This avoids tapping wrong buttons by mistake. As an extra tip, it is a very good idea to add some padding to the buttons that are added to mobile web design. This increases clickable area and makes it a lot simpler to properly browse through a mobile site.
Professional Help May Be Needed
Keep in mind that mobile website design is a lot different than the regular desktop standard that is used these days. Professional help is normally necessary for mobile use. You have to be patient and always choose the opportunities that are the best for you. In most situations, this is only possible when you work with professional mobile web developers.
The professional basically guarantees that you will be able to have a site that is perfect for the reasons why you actually launch the site in the first place. If you do not actually know much about mobile web design, hiring a professional is definitely the only option that you should actually consider. Everything else would bring in a low quality.