It's undeniable: at certain points in your life, you're going to be too busy for your own good. You're going to have too many demands on your time and not enough hours in the day to fulfill them. Whether you're just starting out in a new career, taking strenuous education classes, running after kids all day or trying out a new business idea, finding time to get everything done can seem almost impossible.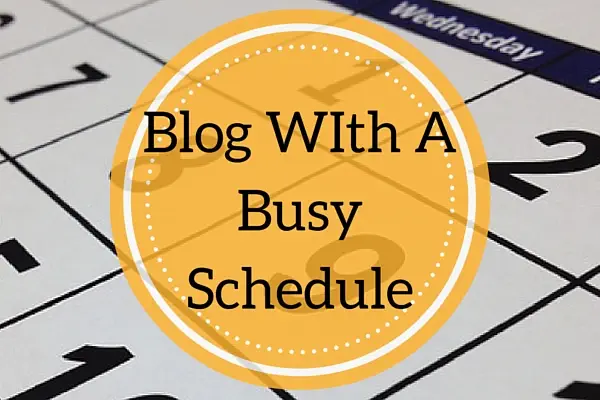 If you're a blogger, it's almost guaranteed that you have experienced this lack of time in your life. But for those who feel the drive and desire to write, it's vital to find time in your days or weeks to get words down on paper and put them out into the universe. So for those struggling to find the time to blog, here are three tips for carving out a space in your busy schedule.
Create A Schedule and Stick To It
When you have a lot going on, it can be difficult to attempt to organize your day in your head and then keep to those ideas. At this point, you need to create a schedule.
According to Lise Cartwright of Outsourced Freelancing Success, creating a schedule is all about finding what works for you. If you need to get your writing down before anything else, plan to schedule writing time in the morning. If you feel the need to write but are lacking the desire, you may want to accomplish your other tasks so you can build up to writing. However you need to make it work, you have to schedule writing time into your day; you can't just expect to magically have a few hours to spare.
Consistency Is More Important Than Quantity
If you're concerned about contributing a certain amount of blog posts to your blog in a specific time frame, you'll be happy to know that according to Neil Patel, an Internet marketing guru, the key to growing your blog audience is actually more focused on consistent posts rather than the amount of posts you can crank out. So when you're scheduling your time to write, don't feel pressured to make space every day or even every other day in order to continue having blogging success. As long as you're publishing content on a regular basis, be that once a week or once a month, you'll still likely see growth on your blog.
Prioritize Your Blogging Efforts
Blogging is a lot more than just writing content. In order to have a successful blog, you also have to be concerned with networking, designing your blog or website, marketing your content and more. For this reason, it's vital that you prioritize your blogging efforts if you're lacking on time to concentrate on blogging.
According to Darren Rowse of ProBlogger.net, a good way to prioritize your blogging efforts might be first writing content, then finding readers, next building your community, and finally monetizing your blog. With your priorities nailed down, you can focus a greater amount of your attention on what is most necessary to have a solid blog.
Even with a crazy schedule, you can find time to blog if that's a desire you have. Consider implementing the tips mentioned above to help tweak your busy schedule in order to create time to blog on a regular basis.