If we find a blog's theme interesting then we directly jump to source page and begin our hunt for the name of that wordpress theme but it is a time taking job. Here comes couple of free online tools that let you easily find out the wordpress theme of the blog or website. Both tools mentioned over here are easy to use, just specify the blog URL of which you want to detect the template and press the enter button.
Along with the name of the wordpress theme these tools will also display the description, version, theme's homepage, author's name, license, tags and a screenshot of the theme.
Also read:
Tools to Find Out Installed Theme in a WordPress Blog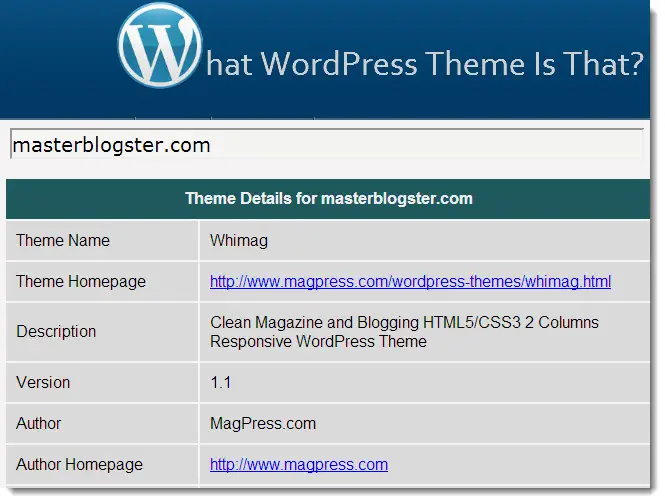 What WP theme is that, their domain name says it all. The site has clean interface with the text input box in the center, just enter the blog or website URL which you want to know the theme and press "Check site" button. That's it, within moments you will get the information of the wordpress theme and plugins the blog use.
In the navigation you will also get the top WordPress themes and top wordpress plugins according to their total search volume.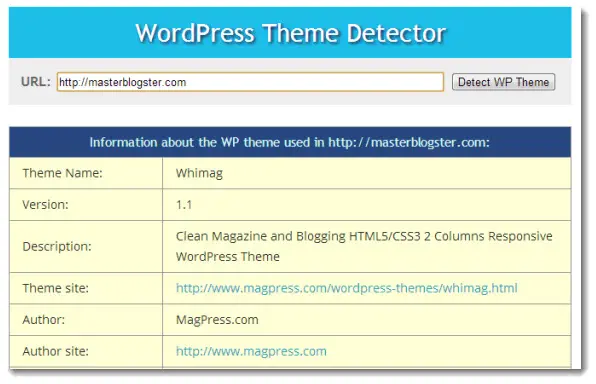 WP theme detector is a similar online tool as of "what WP theme is that" which comes up with some additional information including license URI and tags of the theme. WP theme detector displays the information about both child and parent wordpress themes.
Both of these WordPress template detectors will also list out the plugins installed in the blog you mention so along with the theme name you will also come to know the plugins installed in the same blog.