Are you a professional blogger but not getting enough time to prepare the content for your blog? Don't worry, almost each and every full time blogger has the same issue, they face many obstacles which distracts them from being a successful blogger, blogging is not just limited to quality content creation but along with that a blogger should also focus on blog maintenance, comment moderation and social media optimization etc.
Then how to be a productive blogger? Here are some must follow productivity tips for bloggers that will surely help you to increase the productivity, simply adapt yourself to these tips to utilize the available time properly to generate quality content for your blog and be more productive.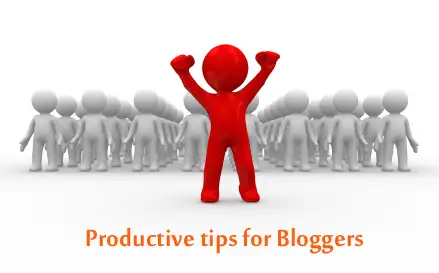 Here are Some Useful Productivity Tips for Bloggers
Set timing to read your emails
Setting the specific time for reading your emails saves much of your valuable time, you can set half an hour in the morning and evening to check your inbox, if you are using Gmail, then simply turn off "Desktop Notification" which is enough to distract your attention.
Don't be over social on your social network sites
Never keep your social network sites always opened in browser, instead fix some time to be on social network sites as of checking emails, be to the point while commenting other post. Strictly close the social networking sites once your estimated time gets over. Avoid using social clients such as TweetDeck or facebook chat so that you can fully involve in your work.
Disable instant messenger clients
Instant messenger clients usually start with the PC and show you as available for chatting in your friend's chatting list. They also inform you whenever a new email arrives whether it is important or not therefore it is avid to keep your instant messenger client disabled. To do so, just remove the installed IM client from startup list from windows or don't go for "Automatic sign in" option in IM client.
Create a to-do list
Create a to-do list and set deadlines for each and every task, you can go for doomi or todoist to-do apps. Personally I use todoist as it supports the range of platforms including Windows, Mac, iPhone, Android, Chrome, Firefox and Outlook with synchronize among each devices and platforms. Todoist sends your productivity report of last 8 days via email that let you analyze your tasks completion ratio.
Set goal to get your favorite stuff
Setting the goal cheers you up to complete your task within the deadline. If you set a goal to buy your favorite gadget by the end of the month with the money you are going to earn, then you will surely work hard whole month to complete your tasks.
Read Motivating Thoughts and Stories
Reading motivating thoughts from successful people propels you towards your goal, subscribe to some motivational pages on facebook which motivates you in your work. Here is my favorite quote on succes by Mr. Bill Gates-
It's fine to celebrate success but it is more important to heed the lessons of failure.

– Bill Gates
Once you follow these protocols for a month, analyze your success rate, you will surely find the difference in blog productivity. Don't forget to share your experience in the comment section below.