According to U.S Census Bureau News, the estimated total retail ecommerce sales will have increased a total of 16.0% in 2017 as compared to 2016 sales. By 2026, the desire for instant access will be the norm for society, as the major population of the world will be millennials who were born between 1982-2002. Moreover, 54% of millennials make regular purchases online. The worldwide spending on digital commerce platform has attained a 15% increase year-after-year.
With these statistics, one can say that ecommerce is a great industry to make a business in. If you're planning to get started in this industry, adopt these 10 practices to improve your ecommerce business.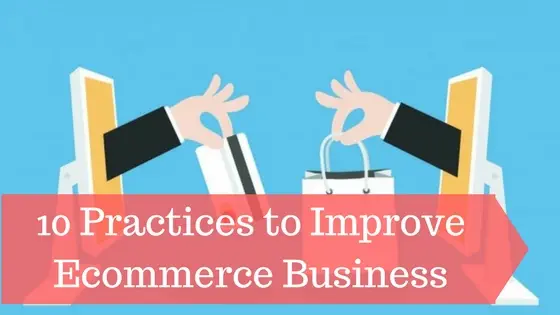 Use Beautiful Photography for Your Offered Products
Beautiful photographs of your products are enticing to customers. According to Jeff Bullas, when browsing ecommerce sites, 67% say that the quality of a product is very important in selecting and purchasing a product. Thus, customers value the quality of a product's image more than the descriptions and ratings.
Having a beautiful photograph of your product doesn't have to be costly. Just focus on the product itself. It is advisable that you use a white background when taking photos of your product. Photograph every angle of the product to let customers visualize what you sell. Try to create a consistent look with your website to build a brand that will be uniquely yours. The photos must be in high resolution to portray the quality of the products.
Merchandise Your Products and Services
When merchandising your products and services, keep in mind that your ecommerce website must be organized by product categories. This will let the customers sort their preferred products at a minimum amount of time.
Make Your Website Easier to Navigate
A website that is well-organized and structured is the key to improve your ecommerce website. Make your website simple and easy to navigate. British researchers have analyzed that of all the feedback participants, 94% was about the design and only 6% was about the content.
Offers motivate customers to buy more. They can attract new customers, which will result in a higher profitability. According to VoucherCloud, 91% of coupon redeemers say that they will visit again the retailer after they are offered a coupon.
A recent survey conducted by Alixpartners has found that 36% of the customers are abandoning their shopping carts because the cost of delivery was too high. To gain higher profits, offer free shipping. This will attract customers and will encourage them to make plenty of orders.
The idea of giving away a free product may make you think twice because it's part of your capital and it comes at a cost. According to, Supermarket News, giving away free samples can boost your sales by 2,000%. It can also help introduce your product if your business is new to the industry. It can also encourage customers to buy the product after trying it and increase sales.
Provide Payment Method Options for Customers
Payment methods must be available and convenient for local and international customers. Fifty percent of regular shoppers will cancel their purchases if their preferred payment method is not available. Offering different payment methods will also make your products accessible globally.
Both Google and Facebook lead the world in digital ad growth. Posting on social media sites and optimizing your site for search can increase sales and can help in promoting your product. Using tactics such as Facebook Pixel to track conversions on social media ads and building optimized backlinks that target your website will help you gain traction on these platforms.
According to a 2015 Nielsen Survey, 83% of recommendation are trusted from people customers know and 70% are from opinions posted online. Product promotion helps in sales growth, which can be achieved and by enabling and incentivizing customer reviews.
Having an appropriate filter on every product on your website will let your customers view and decide what to buy. This also saves time for customers and lets them conveniently shop on your website.
Conclusion
Maintaining an ecommerce website isn't easy. By mastering these practices, you are one step ahead of having a website that can be profitable and sustainable for you in the long run.