On-page SEO is as important as Off-Page, even some experts argue that on-page is more important to organically rank in search engines. Content makes a large portion of SEO and this is why creation and optimization of content infinitely improve the chances or ranking higher and get traffic from search engines.
In this article, we will be covering all aspect of content SEO and how you can prepare top quality content for search engines. We will also share best practices to follow.
What is SEO Content
It might be a new terminology for you, but SEO content is nothing different or new. To write the best SEO content you need to know some basic concepts of what is SEO, how content optimization works and what content types are there.
Search Engine Optimization or SEO is the practice of optimizing various aspects of a website to maximize the visibility in search engines like Google. An effective and powerful SEO strategy can be divided into three groups:
On-Page SEO
Off-Page SEO
Technical SEO
Content SEO falls into the first group and forms the major part of any on-page SEO process, as illustrated below-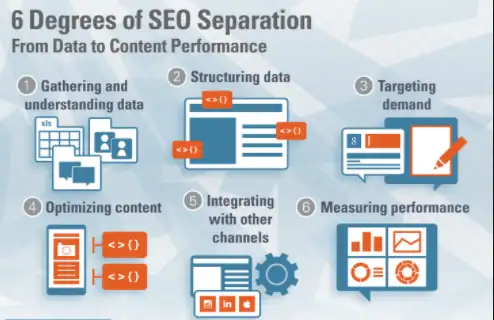 As highlighted the on-page optimization starts with SEO friendly titles and H1 headings. Rest is all about content added to the page. With content SEO your main goal is to write content which is written such that search engines can easily understand and index it, at the same time it should satisfy user intent and provide useful information.
The link building techniques fall under off-page SEO, while the ones concerned with HTML and coding is part of technical SEO.
Types of SEO content
Before we share best SEO content practices, you need to understand what content means.
Usually, bloggers think content is only about articles and posts but they are mistaken. Web content comprises of texts, videos, images, audios, and infographics. Mostly you deal with a combination of all these forms. Generally, your website will deal with one of the four content types:
Static pages-pages like about us and contact that are rarely updated
Landing pages-are mostly used for PCC campaigns where users land for the first time when they visit your website
Blog posts-are the most widely used formats. It can an article, how to guides, lists or general information that is formed from a combination of text, images, infographics, and video.
Product pages-widely used on e-commerce sites to promote products or services
Best practices to optimize content for SEO
The tips we are about to share will serve as the guidelines to optimize any content for SEO regardless of its format. If you follow these practices we can assure you that your content will be SEO optimized.
Keyword research is the first step
Before you hit that keyboard to write a marvelous piece, you need to do your homework first. The keyword research should be the first step of SEO content creation and not the writing. It is important that you know what keywords users will search for. This will help you create a user-centric content as well as you will know what keywords to use to optimize the content for higher rankings and more traffic.
Google Keyword Planner is an excellent tool to find the main keywords related to the topic of your content. Make sure you use the long tail keywords as they boost the ranking potential of your content. You can also include LSI keywords in your content.
Your titles and headings should have keywords as well as in the body of the content. Use the main target keywords in the main title and beginning paragraphs while long tail and LSI keywords should be used for subheadings.
Add text to non-text content
As we mentioned earlier that SEO content is a combination of text and non-text elements, it is important that you optimize the non-text elements for better rankings. Search engines can better understand text than images and videos. Therefore, when your content has images and videos predominantly it is important that you add complimentary text to make it easier for search engines to understand what the media is about.
For instance, if you made an infographic for your website, just do not simply publish it. Add a few lines explaining what the infographic is all about. Same can be applied to images, videos, and even audios. SEO content is the one that is search engine friendly.
Clear introduction is necessary
Content SEO is all about optimizing the content which is created to satisfy user intent. Your content should be relevant to the user and satisfy their search query.
Having a well-defined and keyword optimized introduction in the content can help you easily beat the competition. For instance, look at this result for "how to wash a car" search-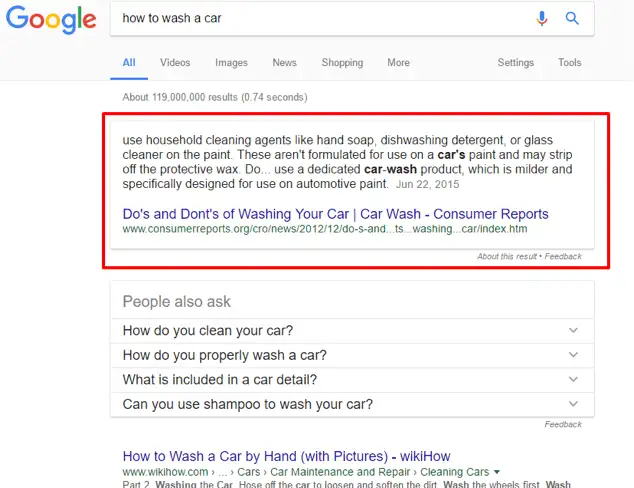 Have a closer look and you will realize that Google is trying to provide the direct answer to the user. If you want your content to be at zero position in Google's SERP, then you should try to answer the user's query directly in the above the fold portion of the content.
Long form content performs better
Have a look at this graph that shows you how the content length relates to ranking in search engines-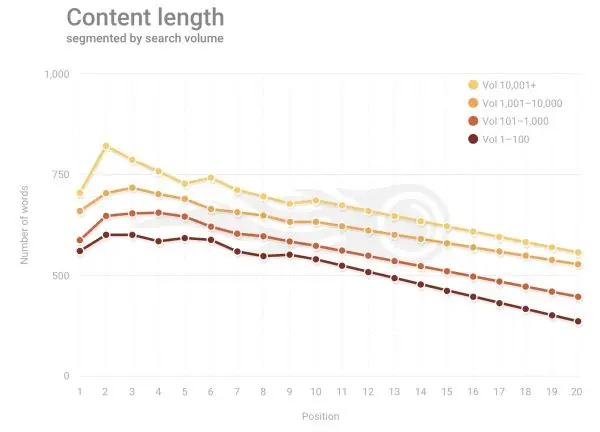 As you can clearly see the content length has an impact on the ranking. However, it does not mean you need to stuff the 1000s of words just for the sake of it. Relevancy and quality of content still remain most important SEO parameters.
Quality of the content is always more important than quantity. If what you write is good and attracts shares and links, it can rank high in Google even if there are other posts that are longer in length. Choose the appropriate content length based on the requirement of the topic.
Tweak the technical aspects
The final touch to an impeccable SEO content is completed by adding internal and external links. Your content should link to relevant internal pages as well as have at least one external link pointing to a high-quality website. Also, optimize non-text content like images with a friendly filename, ALT text, etc.
The Takeaway
Content SEO is the most important part of the on-page SEO process. Create the content that serves users intent and is understandable for search engines. Finally, optimize the content using the practices listed here.