Everyone knows how to blog on WordPress. But have anyone ever thought to podcast via WordPress? In this article, we will show you how to start and setup a podcast using WordPress. We shall also tell you how podcasts work, tools you require, and some other helpful resources.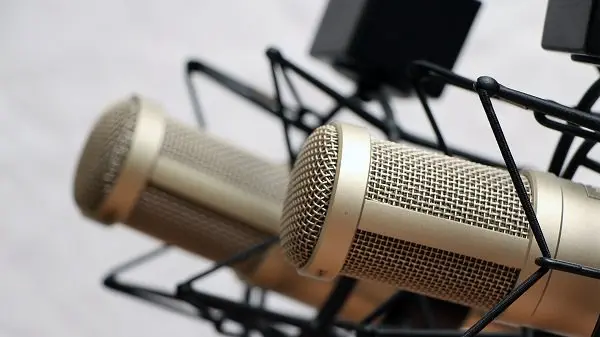 What makes something a podcast?
Have you herded about RSS feed? If yes, then a podcast is just like RSS feed. Traditional podcasts are episodic series of audio files that users can subscribe to and download to listen, but there are plenty of video podcasts too.
There is nothing much difference when publishing a podcast entry rather than a blog entry. A podcast entry can sit right alongside a blog post. It is all about how people digest your podcast rather than your blog. The vast majority of persons, depending on your niche, will be reading your blog using an RSS reader. Podcasts are consumed using a podcatcher of some sort, like iTunes. By submitting your podcasts to iTunes podcast directory, you can make it available to millions of your users. Your users can easily subscribe to your podcast on their iPhones, iPods, iPad, and other Apple devices. They can subscribe to it using podcast apps.
One of the best podcasts example in entertainment has been- The Ricky Gervais Show, who started life as an incredibly popular podcast with roots in traditional radio. Other favorite podcasts include This American Life, The Joe Rogan Experience, The Nerdist, and Radiolab.
Five best Podcasting Plugins
Combining your podcast with a WordPress site is a smart way of promoting and sharing. There are some notable podcasts covering the platform and addressing topics like news, how-sot, and advanced programming techniques.
Here are some few important Plugins for podcasting with WordPress:
Blubrry Powerpress Podcasting
This plugin offers just about everything you need to host and manage a podcast. One may easily post MP3 files to your WordPress site directly with PowerPress. It generates the podcast feed required for listeners to subscribe – RSS2, iTunes, ATOM and BitTorrent RSS are all supported. This saves time. Apart from this, PowerPress is also helpful in SEO settings which help to increase your blog and podcast's discoverability in Google and the iTunes directory.
Seriously Simple Podcasting
Seriously Simple Podcasting offers some robust tools and enables you to manage multiple podcasts directly from WordPress. It poses minimal settings so as not to distract the user from what is required to publish the content. Other features available include an extremely configurable RSS feed which works well with podcasting subscription software.
Smart Podcast Player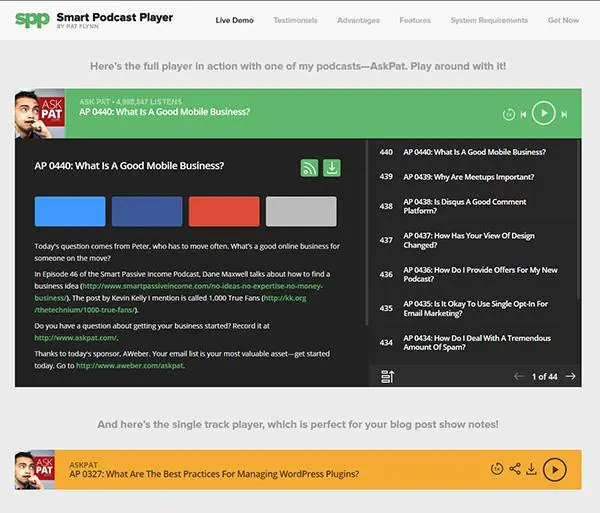 Smart Podcast Player is suitable for larger or more popular podcasts. It offers an attractive, full-featured player that can be displayed on a WordPress site. The developers are promised with increased podcast traffic, downloads, and tools for boosting subscriber growth. Some of its advanced features are speedup or slowdown playback, mobile-friendly formats, and automatic updates.
Podlove Podcast Publisher

Podlove Podcast Publisher offers simple solutions for adding podcast episodes to your WordPress blog. The plugin generates efficient, properly formatted podcast feeds for every subscription service. It also provides detailed control over how the user's client will load and operate the podcast. Moreover, it also includes multi-format publishing that includes support for legacy audio and video codecs.
Cincopa

Cincopa helps to add a variety of media to a website. It provides tools for multiple content management systems, including WordPress. For podcasters, they offer a plugin to add a customizable player to your WordPress site. This service aims to streamline the podcasting process and play your episodes. This plugin is best for companies or bloggers with occasional audio or video posts.
Saving podcast settings
Ending up with an audio file for your podcast entirely depends on the user. Take a USB mic and record straight into GarageBand. This will be the easiest method to add things like chapter and changing artwork.
Podcast settings on the Plugin settings page will help you to get the all kind audio files you are willing to get. So activate your Plugin, and move to the Podcasting Settings page on your WordPress Dashboard.
You will meet with your podcast feed address, which is the absolute address to your podcast RSS feed. Everything after that line should be editable, and you should place in all of your podcast's info. It is important to note that whatever you make as your podcast title, tagline or summary same will be shown in iTunes. There will be a place to add the URL of your podcast album artwork. Create a high quality 600 by 600-pixel image, upload it, and drop the URL in there.
That's all!
The Equipments Required for Podcasting
There are three popular mic choices among podcasters. As your podcast grow, you will learn about new tools that you can use to produce higher quality podcasts. However as a beginner, a good microphone is enough for you.
To record your podcast, you will need an audio recording software. The best podcast recording software which is used by most podcasters is Audacity. It is a free, cross-platform, and open source software capable of recording studio-quality professional podcasts. To record your voice, just click on the record button.
Create a new project from the File menu. To record your voice, just click on the record button. Now feel free to record your podcast. You can also import music files from File > Import and set them as background music. Once you have recorded your podcast, you need to export it. Most podcasters export their audio files in MP3 format because it creates smaller file sizes with good quality.
How to submit your podcast to iTunes
There are lots of different ways to digest podcasts. Navigating, in iTunes, to the podcast section look in the middle of the window for the "Submit a Podcast" button. It should ask for your podcast feed. Remember the clean RSS address from your Podcasting Settings page? Copy and paste that into iTunes and submit it.
Now you have to wait for the process for podcasts being accepted into the iTunes listing.
There are tons of little tips and tricks for publishing podcasts, on WordPress. Does any of you publish your podcasts? Share your experience with us.
About the Contributing author:
Samuel Dawson is a PSD to WordPress theme service provider all over the globe. He has been a consistent and definite professional in Desigsns2html Ltd with marvelous conversion. He is a well-renowned manager who manage all markup conversion successfully.