Usually most of the bloggers don't bother about proofreading but it is an important segment of content writing job. In this article we have described about the importance of proofreading for bloggers and some useful tools to proofread your article.
Also read:
Importance of Proofreading for Bloggers
As I said earlier, proofreading is an avid task, it is closely related to SEO. Avoiding spelling and grammatical mistakes helps search engine bots to easily understand the content of your blog post and as the result your article will get a higher rank in the search results.
If you have Easy WP SEO plugin installed in your blog then you might have noticed various readability index formulas such as SMOG index, gunning fog, flesch kincaid reading ease, automated readability index and coleman liau index. Proofreading your article and correcting the grammatical errors, improves the score of these readability indexes.
List of Google Chrome Extensions to Proofread your Blog Post
You can simply go through your article and make the spelling and grammatical corrections if it has 300-500 words, but what if your blog consists more than thousand words? It takes time right? So here are some useful Google Chrome extensions to proofread your blog post.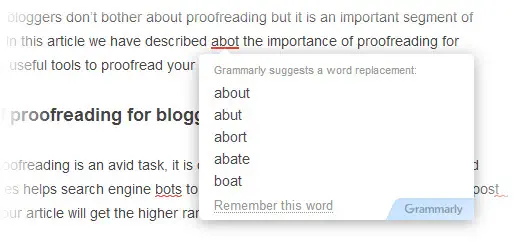 Grammarly lite is one of the best proofreading tools for bloggers which helps in correcting spelling and grammar mistakes. You can just hover your mouse over red underlined words to get the suggestions or double click on any word to see the synonym of the same. Grammarly lite helps in correcting spelling mistakes, grammar mistakes and punctuation mistakes. It integrates well with the WordPress editor by adding a small icon in the bottom right corner.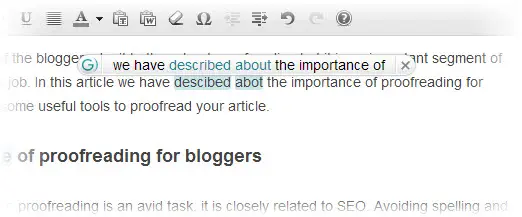 Ginger is an another free spelling and grammar correction tool which is capable to fix 30 types of grammar mistakes. If you are one of those who use MS Word to write the articles then Ginger will assist you in the office applications too. Earlier Ginger was only available to correct the grammatical mistakes of Gmail, Facebook and LinkedIn but now it is also available for MS-office products.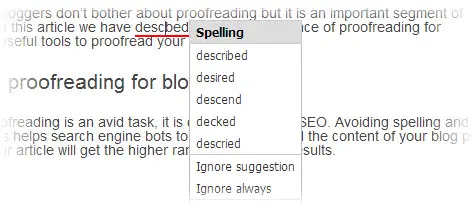 No matter whether it is your Facebook wall, email editor or WordPress editor, After the deadline suggests proper spelling and grammar notes everywhere. In the WordPress editor you get a small icon of this plugin, click on the icon to activate or deactivate it, uses artificial intelligence to check for typos and grammatical errors.

Proofread bot analyzes grammar, plagiarism issues and gives an in-depth report with the explanation. After installing the extension, select entire text (ctrl+A) of your blog post, right click on it and click on "Check with proofread bot option, a new window gets opened with your blog text, now click on "Get your proofread bot report" button to have a look at the grammar issues with explanation. Proofread bot is also available as WordPress plugin, check it out.
Note: Restart your Chrome browser after installing any of these extensions and do not activate multiple extension at the same time.
If you need to proofread your essay, visit Analyze.AcademicHelp.net.