The most time taking part of wordpress plugin development is creating settings page of your wordpress plugin, you need to write lines of code to provide simple backend options for your wordpress plugin. If you are looking for an easy way to create option page for your plugin then just continue reading this article.
Also read:
Introduction to Free WordPress Plugin Options Page Generator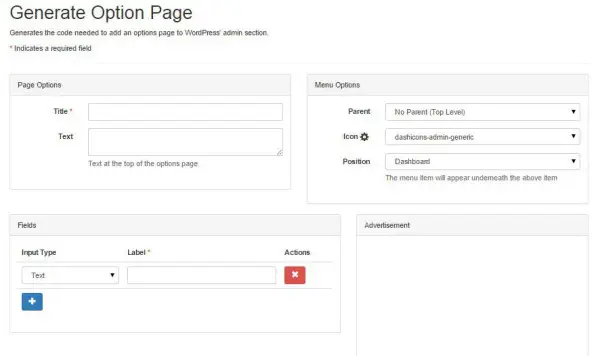 Jeremy has come up with the free online WordPress options page generator for plugins which could be used to create options page for your WordPress plugins in minutes. It generates OOP based code for your plugin backend, the tool supports text, textarea, dropdown, options and checkbox inputs. Here is how to create settings page for WordPress plugin.
Step By Step Guide to Create Settings Page for WordPress Plugin
Navigate to WordPress options page generator
Add title for your settings page
Select the menu position for settings page
Add the required input fields and label them
Click on the "+" button to add more fields
Finally click on "Generate PHP" button
That's all, your wordpress plugin options page code will be generated in second, incorporate the generated code in your plugin.