WordPress is not the lake water but it is a flowing river where we get to see new things every day, we need to follow the stream to get updated with the latest developments and phenomenon of WordPress. Here is a community that let you explore the latest happenings of the WordPress and bring some real traffic to your blog i.e. ManageWP.org.
Also read:
What is ManageWP.org?

ManageWP.org is dedicated WordPress community where you can share your WordPress related articles and explore the WordPress posts shared by others, you can vote up the articles if you find them interesting.
ManageWP.org has a user friendly interface, everything is clean and simple over here, you can filter the topics by articles, plugins, tutorials, themes, business and discussions to read the posts from selected category.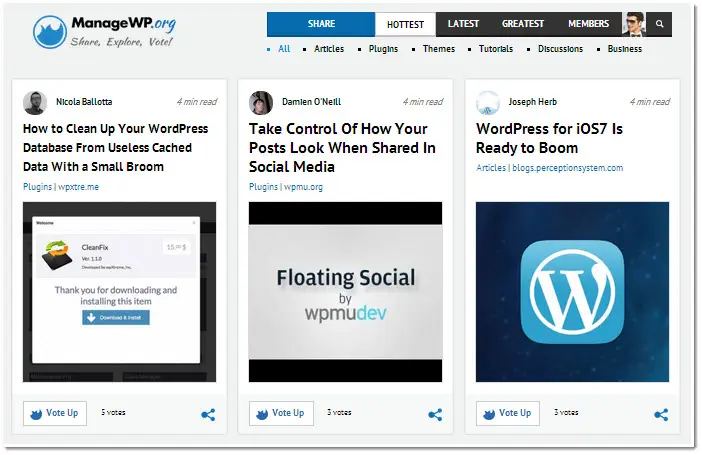 ManageWP.org's main menu includes six items namely share, hottest, latest, greatest, members and profile. You can read the trending wordpress articles at 'hottest' panel, have a look at newly added posts at 'latest' page and check out the best picks at 'greatest' menu.
How ManageWP.org is Helpful to Me?
ManageWP.org is helpful for you indeed, if you write about WordPress and blogging niche, you can share them in ManageWP.org which helps you bring some decent amount of traffic to your blog. The team mates of ManageWP.org vote up your article if they found your post interesting which moves your article to the top in ManageWP.org community and brings constant traffic.
Apart from sharing your articles, you can gain knowledge and update yourself with the latest WordPress stuff by reading the articles shared by other members.
How to Share My WordPress Article in ManageWP.org?
Sharing your WordPress articles at ManageWP.org is pretty simple, all you need is to become a member of ManageWP.org to share your WordPress stuff. You can sign up with your Twitter or Facebook ID. Once done with sign up you have to complete your profile by adding your skills, job title and blog URL etc.. You can start sharing your articles once ManageWP reviews your bio and approves to share.
Are There Any Guidelines to Share My WordPress Article at ManageWP.org?
Yes, there are some guidelines to share your WordPress articles at ManageWP.org. First of all ManageWP.org accepts the articles which are only related to WordPress niche, article quality matters much over here, ManageWP.org hates spamming and you need to be friendly with other members, that's all.
Website: managewp.org