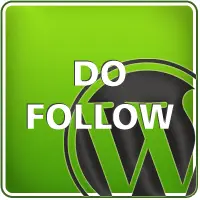 We came to know how to check whether a blog is dofollow or nofollow in our earlier article, in this post we will shed light on how to add dofollow attribute to WordPress blog to make your blog comments dofollow.
By default WordPress blog comments use no-follow attribute which don't pass Google page rank to the links, rel="nofollow" also tells search engine not to follow the link. Before knowing how to make wordpress blog comments dofollow, let's know why to use dofollow comments on blog.
Also read:
What are the Advantages of Dofollow Blog?
There are many advantages of making a dofollow blog, first of all you get more comments as most of the people prefer dofollow blogs to comment on, secondly converting your blog to dofollow blog brings huge traffic and backlinks as your blog gets listed in hundreds of dofollow blog directories, apart from this bloggers who list out do-follow blogs will mention your blog in their articles.
How to Make WordPress Blog Comments DoFollow
Making WordPress blog dofollow is a simple task which can be accomplished using WordPress plugin i.e Dofollow plugin, here is the step by step guide to turn your blog to do-follow-
Login to your WordPress admin panel
Go to plugins page and search for dofollow plugin
Install the dofollow plugin and activate it
That's it now your blog comments turn to dofollow comments
You can simply deactivate this plugin to again make your blog comments nofollow
Finally check out our earlier post how to know whether a blog is dofollow or nofollow to confirm your dofollow blog.